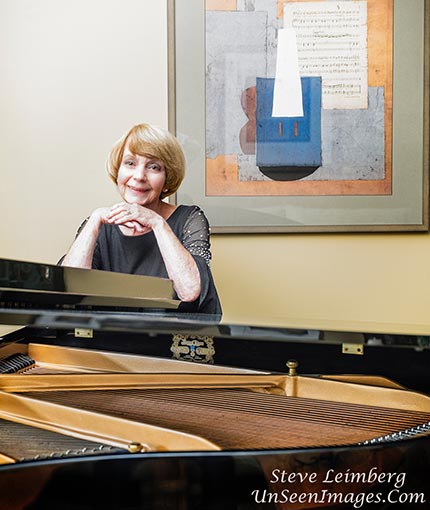 Pamela Bushnell for the News-Leader June 14, 2019
Jane Lindberg: Kept the arts alive in Nassau
If an SUV with a sign on the driver's door saying, "Caution: Driver Singing," passed you on a Nassau County road, that would have been Jane Lindberg behind the wheel. "I've had more fun with that sign," said Lindberg. Founder of the Island Chamber Singers and president of Arts Alive Nassau, Lindberg exudes energy and enthusiasm.
Named 2019 Community Volunteer of the Year by the Florida Alliance for Arts Education, Lindberg has a master's degree in fine arts and a doctorate in musical arts but she is a true virtuosa when it comes to sharing her passion and bringing people together through music.
A diminutive woman with a Julie Andrews haircut, Jane Lindberg's passion for music exceeds what could have been a physical barrier. It's hard to believe those tiny hands once majored in piano. "I had good teachers and the size of my hands never stopped me. I learned how to compensate," she said. Her inspiration was her mother, who was a piano teacher. Lindberg later branched out to conducting and composing and earned both master and doctorate degrees in music.
Since arriving in Nassau County in 1998, Lindberg has helped put the county on the map when it comes to musical arts. She is the founder and conductor of Island Chamber Singers, a group 37-members strong that performs classical music and is now in its 16th season. The Island Chamber Singers perform two concerts locally each year. The group is performing Mozart's Coronation Mass in Paris this month. They have already performed in Carnegie Hall.
Lindberg also founded Songspinners, an all-volunteer singing group that meets every Thursday morning to enjoy pop, roadway and folk tunes. "That's my therapy group," Lindberg proclaimed. She is also musical director at New Vision Congregational Church in Yulee, where she has introduced jazz and rock and roll into services.
At the heart of her award as 2019 Community Volunteer of the Year by the Florida Alliance for Arts Education, however, is her role as board president for the nonprofit Arts Alive Nassau, a program bringing the performing and visual arts to children in the Nassau County School District who might otherwise have little or no access to the arts.
The arts have been causalities of chronic budget cuts to public education here and around the country. According to Lindberg, currently there is one music teacher per elementary school in the county and no visual arts offered until middle school. Band and choral programs at the district's middle and high schools are also a mixed bag.
Arts Alive offers instruction in drawing, visual arts, drama/movement, musical theater, violin, band, drumline, brass ensemble, dulcimer, guitar and ukulele for grades K-5. Most courses are held after school on school campuses at no cost to students. The program also provides classes to the county's special needs students at Wildlight Elementary School during the school day. Instructors are paid an honorarium by the nonprofit organization so there is no cost to students for instruction. Those taking music lessons may have to rent or buy their instruments.
"I was surprised to learn that 54% of elementary school students in Nassau County qualify for the free lunch program, meaning these families cannot afford monthly rental of an instrument," shared Lindberg. These are the students targeted by Arts Alive, children whose families cannot afford private lessons.
Area Residents In Action for the Jacksonville Symphony, ARIAS, has initiated a violin acquisition program for her students. Arts Alive has acquired some dulcimers, ukuleles and guitars to lend. However, they are still looking for community contributions to help them provide drums, brass and other band instruments for students unable to rent or purchase them.
"We also need volunteers to accompany instructors in the classroom while they are teaching. Our music classes tend to be small, with ten or fewer students, but some of our visual arts classes are bigger. The school requires us to have another adult present during classes," explained Lindberg.
Arts Alive has two new programs reaching out to middle and high school students.
The First Coast Singers, a community chorus for youth ages 10-17, was launched in August 2018 under the direction of Jonathan Welch, vocal teacher at Douglas Anderson School of the Arts. The program doubled in size by its second semester and performed two concerts last year. The chorus is open to any student in Nassau County and surrounding areas.
Set to launch in August 2019 with the help of ARIAS is The Nassau Youth Orchestra. It will start with strings and add other instruments in the next year or so. Marj Dutilly will be teaching a class for viola and cello. Instruction in violin will also be available. The orchestra is open to any student in Nassau County and surrounding areas.
Arts Alive Nassau has one paid part time staff member, Marjorie Meder, who coordinates with the school system, instructors and students. She can be reached at (904) 310-9243 or by email at [email protected].
"We have not done that much promotion of the program but we plan to change that as we approach our first fundraiser this January," said Lindberg. Arts Alive has contracted with humorist and motivational speaker Jeanne Robertson, a former teacher and Miss North Carolina, to come to Fernandina Beach for their fundraiser.
Originally from Newport News, VA., Lindberg relocated to Nassau County with her husband Bob Lindberg to establish a branch of Springer Controls Company. Her husband is an electrical engineer who started the company in South Carolina. Springer Controls makes switches for motors used in industry and lubricants for wind turbines across the nation and in Canada. She continues to work part-time in the family business in Yulee in addition to her extensive volunteer work.
"Bob is very supportive of my activities and is a great patron of the arts," she said. Both enjoy what they do and see no traditional retirement in their future.
As for playing the piano, Lindberg has had to make a few more compensations for arthritis. "My hand doctor tells me 'Don't ever quit playing.'" Some days she wears a wrist brace for support, but she can still perform an impressive rendition of Jerry Lee Lewis' 'Lucille,' as evidenced by a video of a recent church service in which she played the song on piano accompanied by flute and strings. A surprising choice of music for a church service and an interesting selection of instruments for a raucous rock-and-roll song, but it all came together for an amazing and joyful experience.